Biz Books
BizBooks is a subsidiary of American City Business Journals, based in Charlotte, North Carolina. BizBooks creates business publications in more than 70 U.S. cities nationwide, and it's the dominant player in the industry. In 2000, BizBooks installed M.O.M. as a subscription order entry system to accept web and phone orders in Charlotte. However, they also needed an application to segment and distribute these orders to 70 different cities.
DMSI realized that a user-friendly point-and-click approach was required to simplify this multi-stage process. DMSI designed an approach that imports web and phone orders from M.O.M. into a customized MS Access program. Customer orders are then processed and segregated for each of the 70 cities. The orders are then posted to FTP sites for immediate fulfillment. The overall result is a streamlined process that saves time and effort from the previous fax-based approach, improving turnaround time of subscription orders dramatically. The true test for this system came in February 2001, upon the death of race car driver Dale Earnhardt. As a publisher of NASCAR news, Biz Books was inundated with orders for their magazines. The DMSI system responded handsomely to this challenge by expediting fulfillment of orders almost overnight. Once again, DMSI simplified the complex.
---
Capresso
Michael Kramm, the president of Capresso, has been called the "Coffee King" by The Washington Times. HOME Magazine calls him the "Java Giant." Michael came to this country from Germany in 1976 and started Krups USA from scratch. From that humble beginning, he built a $100 million business. In 1994, he launched Capresso to provide high-end innovative coffee and espresso machines for consumers.
Capresso needed M.O.M. to be configured to perform 3 functions:
Accept customer orders
Send repair orders to a remote facility in another state
Track the warranty activity of Capresso products
DMSI began by installing M.O.M., and providing staff training on-site at Capresso. M.O.M. was then customized to accept warranty products, as well as demographic information supplied by consumers on their warranty cards. Finally, DMSI built a custom interface with M.O.M. using MS Access – to create Excel spreadsheets for all of the repair orders. Let Michael explain the success of this program:
Desktop Marketing Solutions, Inc. was the fastest and best computer consultant we ever had. Within three days we were able to convert our customer service department and customer warehouse staff of 11 people on to a computerized system. We had a 20% savings in personnel and are now shipping and responding faster than ever before. Your knowledge of the system and your "hands-on" approach made it easy to convert. Equally important is the fact that we can always call you on short notice and can get advice over the phone."
             – Michael Kramm, President, Capresso Inc.
---
Head Start Publications Center
The Head Start Publications Center distributes educational and resource materials to Head Start programs nationwide, from their offices in Washington DC. In 1999, the Publication Center was looking for a database solution to replace their existing system. Specifically, Head Start needed better functionality to perform order entry and fulfillment for their constituency.
After a quick review of Head Start requirements, DMSI staff did not hesitate to recommend M.O.M. as the ultimate solution. DMSI then managed the entire installation project for M.O.M. at Head Start, including:
Data conversion
O.M. System configuration
Training
Report writing
The project was completed without a hitch, which explains why Head Start enjoys the longest tenure of any of our M.O.M. clients: 8 years! Here is what Don Smiley, Manager of the Publications Center, had to say about DMSI's performance:

Bruce knows the M.O.M. system inside and out. If it hadn't been for M.O.M., as well as Bruce and his team, we wouldn't be able to fulfill 15,000 orders per year totaling 4,000,000+ publications."
             – Don Smiley, Facilities Manager
---
Homespun Tapes
Homespun Tapes, founded in 1966 and based in Woodstock NY, grew out of the conviction that making music is a positive and beneficial activity, whether you are a professional musician or just learning to play to entertain yourself, your family and friends. Homespun's founder, Happy Traum, is renowned in music and guitar circles for his contributions to the industry. Homespun has received media attention in Time, People, Entertainment Weekly, Forbes, Playboy and in dozens of newspapers around the country. The company has also been featured on NBC's Today Show, CNN's Entertainment Tonight, NPR's All Things Considered and the Discovery Channel's Monitor World News.
Homespun presented DMSI with a number of system requirements. They needed all of the following:
Installing M.O.M., and training staff.
The existing customer database needed to be converted to M.O.M.
A reporting system for royalty commissions for contributing artists.
An easy conversion of daily web orders into their database.
Homespun, like many other M.O.M. users, did not have any professional tech staff or systems administrators on board. Thus, any solution needed to be reliable and easy to use. DMSI used three off-the-shelf programs to achieve this objective: Multichannel Order Manager (M.O.M.), Crystal Reports and DoubleTake.
Step 1: More than 200,000 orders were converted into the Multichannel Order Manager database.
Step 2: Crystal Reports was customized to provide the royalty reporting required.
Step 3: DoubleTake, a desktop deduping program, was installed and customized to convert web orders into an import file for Multichannel Order Manager. This task included setting up a deduping capability so that repeat customers would be recognized prior to import. This avoided creating duplicate customer records in M.O.M.
We had been using a custom order entry package for 10 years, and needed to upgrade our large database. Desktop Marketing took on the daunting task of converting us to an off-the-shelf product. They made this rather daunting task quite painless and were professional and fun to work with. Response time was always superb and we proceeded directly into our busiest season with absolutely no down time."
             – Susan Robinson, Operations Manager, Homespun Tapes
---
Kauai Coffee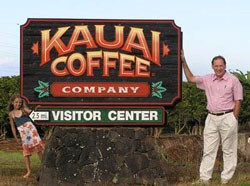 Kauai Coffee Company is Hawaii's largest coffee grower, with 3,400 acres under cultivation on their estate near Koloa, on the southwest side of the Garden Island of Kauai. In 2005, Kauai Coffee asked DMSI to help jump start their marketing efforts.
DMSI staff created a two-day training program for Kauai Coffee marketing and operations staff. This training focused on using M.O.M. features for the Kauai Coffee loyalty program: specifically, boosting membership in their "Coffee Club". And, of course, DMSI staff was more than willing to provide this training on-site at their offices on the island (tough duty, but somebody had to do it!). Finally, DMSI staff devised an approach to download inquiries from their web site to M.O.M., to expedite follow-up.
---
Virginia Wine of the Month
"Virginia is for Lovers," as the slogan goes, and is also home to many vineyards with great wines. The Virginia-based Wine of the Month club (WOMC) has been popular in the mid-Atlantic for more than a decade, and was recently acquired by The Virginia Company.
This presented a challenge for Willis Logan of the Virginia Company: how to fold in all WOMC member orders from an Access database into the Virginia Company's corporate database (Mail Order Manager). Willis asked DMSI to perform the database conversion, based on our experience with both Access applications and M.O.M. The resulting conversion was pleasing to both Willis and his customers: "We completed the transition without skipping a beat – Bruce's help was invaluable."
In Part 2 of the database project, DMSI configured the RFM analysis feature of M.O.M. for the Virginia Company database. RFM (Recency, Frequency, and Monetary Value) is an approach to scoring your customer database, since all customers are not alike. In this way, organizations are able to cut mailing costs by sending catalogs to the highest scoring customers most likely to respond. This is targeted direct marketing at its finest.