Back to School for Marketers: Foundations of CRM
With the stores full of notebooks, crayons, glue sticks, and other colorful back-to-school supplies, you might find yourself wishing you could return to the classroom too…
Of course you already have a full-time job.
But if you can indulge yourself by spending 20 minutes to take an online course, I'd like to invite you to participate in our Foundations of CRM course for Catalog University.
This class will introduce you to the core concepts in Customer Relationship Marketing (CRM) – how it started and where it is today.
Most direct marketers will tell you that they learned their craft on-the-job. There were few training options and even fewer collegiate courses on these topics. In this course you can pick up the theory and practice to fill out the gaps in your CRM knowledge.
This course will be particularly valuable for multi-channel marketing staff, especially catalogers, who wish to exploit the goldmine of customer data sitting right under your eyes!
Your instructor is Bruce Gregoire, an Adjunct Professor of Marketing at Johns Hopkins University, who has abstracted content from the course he teaches on CRM systems as part of the MBA program Johns Hopkins.
Your textbook will be V. Kumar's Customer Relationship Management, available on Amazon.
Built by direct marketers for direct marketers, Catalog University offers more than 100 online classes and recorded Pub talks designed to help catalog professionals learn how to market better. Courses are taught by industry experts, and include web and print design, SEO tips and tools, email best practices, making money from social, and much more.
---
DMSI Announces WiseGuys Interface with Google Analytics
Falls Church, VA (November 10, 2013)–DMSI announced today that our flagship application has taken giant steps toward solving the riddle of multi-channel attribution. WiseGuys, an award-winning marketing analytics application, can now incorporate Google Analytics data feeds into its Matchback reporting, and deliver more precise ROI metrics.
Until now, WiseGuys has been limited to matching customer orders against either catalog or pay-per-click promotional campaigns. By adding Google Analytics, WiseGuys can now provide a 3rd component in the pursuit of knowing "what works" in data-driven marketing. As any seasoned marketer knows, the challenge in today's fast paced environment is an extreme version of what was posed by John Wanamaker in the last century: "Half of all advertising is wasted – I just don't know which half"
Since 2003, WiseGuys continues to drive response and deliver ROI by answering "what works" in your marketing initiatives.
---
Ecommerce, Retail and Catalog Merchants Get Help with Multichannel Order Manager (M.O.M.) from Desktop Marketing Solutions Inc. (DMSI)
DMSI Provides M.O.M. Data Conversion, Deduping, Shopping Cart Integration, Report Writing, Customizations and Startup Consultations
Falls Church, VA (October 12, 2011)—Desktop Marketing Solutions Inc. (DMSI) announced that the company has formalized a long-standing relationship with Dydacomp and become a Software Solution Provider for Multichannel Order Manager (M.O.M.).
DMSI has been supporting M.O.M. users since 1999, helping more than 100 e-retailers and catalogers get started with the software, configure it with their business model, and use it effectively for marketing, order processing and fulfillment.
"Many of the companies we work with have more than 25,000 customers and may be marketing via the Internet, catalogs and retail stores. For them, M.O.M. provides an excellent way to integrate order entry and fulfillment across channels," said Bruce Gregoire, president of Desktop Marketing Solutions Inc. "We believe in the software, have had excellent experiences with it in the past, and look forward to extending our successful partnership well into the future."
In addition to M.O.M. services and support, DMSI also integrates its own software with M.O.M. WiseGuys CRM provides data mining tools that help merchants send the right message to the right people at the right time. The integration with M.O.M. provides:
Advanced customer deduping and householding.
Highly specialized RFM analysis (Recency, Frequency, Monetary Value) to target customer mailings for higher yields.
Matchback Response Analysis to allow marketers to see the ROI on each segment of their mailings.
Lifetime Value Analysis to measure the success of customer retention initiatives.
Market Basket Analysis to deliver cross-sell probabilities.
Landing Page Optimization to show which web page a Google keyword should be directed to.
"The launch of our new Software Solution Provider partner program gives us the opportunity to let our customers know about vendors that are able to provide the additional services some of our users need," said Craig Abramson, director of marketing for Dydacomp. "We are very pleased to have DMSI sign on as one of our first partners. Their years of experience with the software, combined with the high quality of the services they provide, give us the confidence to refer our users to them."
About Dydacomp
Dydacomp solves the business automation and order management needs of eCommerce, catalog, DRTV, and traditional point-of-sale businesses worldwide. Since 1986, nearly 10,000 companies have relied on the Multichannel Order Manager (M.O.M.) solution to streamline processes, increase efficiencies and boost revenue in areas such as inventory control, order entry, customer maintenance, credit card processing, list fulfillment, shipping and more. Through its open API, M.O.M. connects to virtually any eCommerce platform as well as SiteLINK®, the company's cloud-hosted eCommerce solution. With M.O.M. and SiteLINK, SMB clients manage over a million online shoppers daily, nearly ten million in gross merchandise sales every day, and optimize over $4 billion in inventory. Dydacomp's solutions provide them with the keys to drive business growth. For more information, visit www.dydacomp.com.
About Desktop Marketing Solutions, Inc. (DMSI)
Desktop Marketing Solutions is a full-service resource for database marketing software, programming, installation and applications. Offering a rare combination of experience in both direct marketing and database technology, with a special emphasis in catalog retailing, DMSI bridges the gap between marketing and databases for its clients. In 2006, DMSI's flagship product, WiseGuys, received the National Center for Database (NCDM) Excellence Award, joining the ranks of companies like AOL and SAS. Desktop Marketing Solutions is headquartered in Falls Church, VA and maintains a website at www.desktopmarketinginc.com.
---
Desktop Marketing Launches WiseGuys CRM Messaging
Automates Marketing Emails to In-House Lists, Sends Personalized Offers to People Most Likely to Buy
Falls Church, VA (October 5, 2009)—Desktop Marketing Solutions (DMSI) has launched WiseGuys CRM Messaging, a CRM solution that helps small to mid-sized businesses send marketing communications automatically to customers when they are likely to buy, with offers targeted specifically to them.
WiseGuys CRM provides a two-part solution, both automating marketing communications and then measuring results.
Marketing communications are triggered automatically based on defined events, such as:
Welcome messages to new customers, personalized with their most recent transaction.
Lapsed messages with an irresistible offer to re-activate former high-value customers.
Thank you messages to show appreciation to high-value customers, perhaps with an offer of free shipping.
Cross-sell messages based on previous purchases, making special offers on products that are typically sold together or consecutively.
Those communications can be scheduled to run automatically each night, with little or no operator intervention. Each email is personalized with information drawn from the customer and order database, so customers receive offers that are designed specifically for their situation.
"Clients who have been testing WiseGuys CRM have achieved response rates as high as 30% to their emails," said Bruce Gregoire, president and founder of DMSI. "We are delighted to have such strong validation of our software's analytic and predictive capabilities, and we are proud to be providing a solution that makes it so easy for organizations to generate revenue while also deepening their relationships with customers."
WiseGuys CRM also includes analytic capabilities to measure results and optimize marketing campaigns:
Recommendation Engine – Similar to the recommendation engine that Amazon made famous ("People who bought Product A also bought…"),  WiseGuys CRM analyzes correlations between products and uses that information to create promotions. For example, people who purchase softball bats might be offered a discount on softballs; people who purchase softballs might be offered gloves or bats.
MatchBack Response Analysis – WiseGuys CRM tracks outgoing emails and all other multi-channel promotions. It matches orders against mailing records to show which campaigns paid for themselves (and which didn't), which segments of the list respond best, and how long the campaigns remain active after the mail date.
Lifetime Value (LTV) Analysis – Calculating a lifetime value for customers allows the marketing team to determine how much it is reasonable to spend to acquire a new customer.
Recency, Frequency, Monetary (RFM) Analysis – Scoring each customer based on their purchase history allows the marketing team to save time and money by targeting mailings to customers most likely to buy.
"Through these analytics capabilities, WiseGuys CRM gives marketers a true 360-degree view of customer accounts," added Gregoire. "For most small to mid-sized businesses, this information simply isn't available in any other way, yet it is crucial to managing marketing effectively."
---
WiseGuys Software Wins 2006 NCDM Excellence Award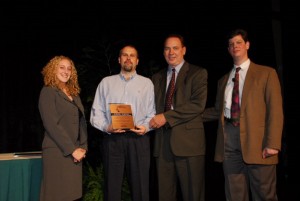 Falls Church, VA (December 12, 2006)–Desktop Marketing Solutions, Inc. (DMSI) today announced that its WiseGuys software, in conjunction with clients RAPIDS Wholesale and Porters Camera, has been named recipient of the prestigious bronze award in the Analytics and Modeling Applications category of the 2006 National Center for Database Marketing (NCDM) Database Excellence Awards.
Presented jointly by DIRECT Magazine and The Direct Marketing Association, the Database Excellence Awards honor organizations that have demonstrated ingenuity and creativity in leveraging marketing databases, achievement of dramatic, measurable results by applying statistical techniques, leveraging systems capabilities or re-organizing to become more customer-focused.
"We are flattered not only by the fact that we join the ranks of illustrious award recipients like AOL and Dell, but because of the recognition the award represents about the value that WiseGuys brings to RAPIDS Wholesale and Porters Camera and other clients," said Bruce Gregoire, president of Desktop Marketing Solutions, Inc.
"This is a powerful testament to our mission of providing companies with the ability to increase sales and reduce mailing expenses via a low priced, easy technical solution."
The award, presented December 12 at a ceremony during the annual conference in Orlando, FL is the result of a rigorous judging process that required careful study of entries representing a variety of industries from the United States and other countries.
---
Larry Chase's Web Digest for Marketers
June 2006
WiseGuys Marketing Analysis Software – WiseGuys enables you to do RFM (Recency, Frequency, Monetary) analysis right from your desktop – and thus identify those customers most likely to respond to whatever off you are cooking up right now. It links to your order entry system. Written in Microsoft Access, it automatically households files, segments customers into quintiles and assigns RFM scores to customer records. You can also apply lifetime value analysis to identify profitable customer segments. It was created by a database marketing company president and instructor at Johns Hopkins University when he and his students realized that RFM analysis was much easier in theory than in practice and that no off-the-shelf program existed to provide RFM capability. You can request a demo at the site.
---
Eight Lessons You Can Learn From a Matchback
Special Report: Matchbacks (Catalog Success: 3/1/06) By Terrell Sellix
Matchback tools also can be added to your existing order management software. These programs offer immediate matchback capabilities by integrating mailing data and order information into a single database. When orders are received, they're automatically matched to a mailed record. Two examples of these software solutions are the Media Matchback Module, which runs in Response Direct Commerce Software by CoLinear Systems, and the Matchback Response Analysis feature of WiseGuys by Desktop Marketing Solutions. The latter links to several standard order management software programs. Costs for these types of tools can range from $1,000 to $3,500 depending on what commerce software you use.
---
Desktop Reporting Tools That Help You Measure Business Performance
Inside Direct Mail, January 2005 issue
WiseGuys Desktop Marketing Inc. offers this marketing analysis software that links to a marketer's order entry system. Written in Microsoft Access, it automatically households files, segments customers into quintiles and assigns RFM scores to customer records. Users can apply lifetime value analysis to identify profitable customer segments and conduct response analysis to measure the effectiveness of direct marketing campaigns. Data filters help marketers reduce data anomalies that might skew analysis results. WiseGuys can be licensed in three different versions: Enterprise, Mail Order Manager customers and MySQL.
---
Closer Look: WiseGuys Marketing Software
Catalog Age, April 2004
Here is an excerpt from the article, written by Ernie Schell, an industry veteran:
A bold statement, but nonetheless true: WiseGuys is the only stand-alone target marketing software available that uses RFM analysis.
"When it comes to database marketing, the typical catalog company, regardless of size, talks the talk but fails to walk the walk. Bruce Gregoire of Falls Church, VA-based Desktop Marketing Solutions aims to change that. WiseGuys Marketing Software is built on Microsoft Access (or on MySQL) and performs both RFMP and LTV calculations in a robust and coherent fashion, with a price tag for the "enterprise" version of $2,500 With this kind of bang for the buck, and for so few bucks, at that, WiseGuys is a no-brainer for companies still stuck in "Excel hell."