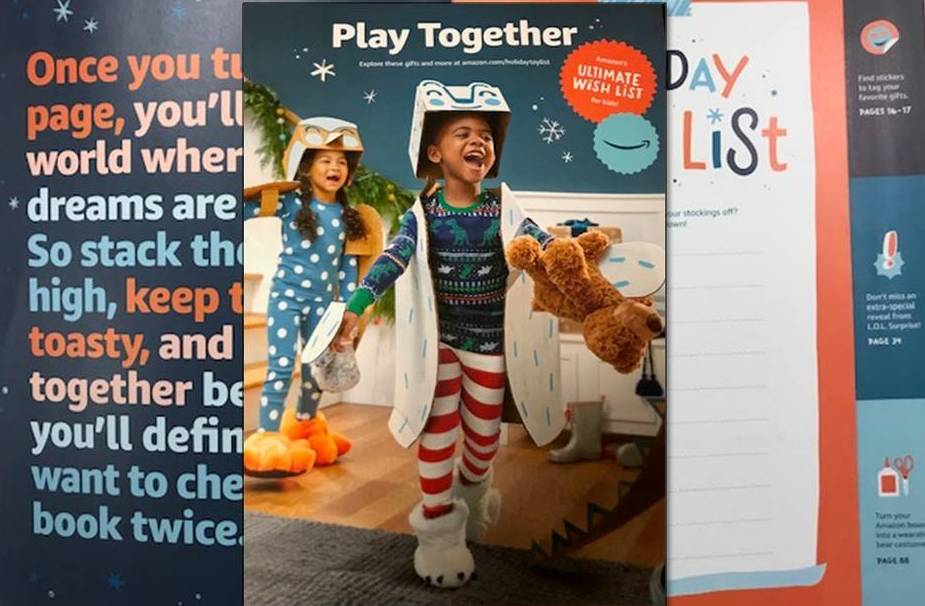 As many retailers send Black Friday fliers this week, it's important to note a significant piece of direct mail: Amazon, the #1 ecommerce company in the world, mailed a toy catalog.
Titled "Play Together" and "Amazon's Ultimate Wish List," the catalog is 89 colorful pages filled with toys, of course, and pictures of smiling kids enjoying them. It includes a "Holiday Wish List" form, stickers to tag favorites, a fill-in-the-blank "Holiday Together" story for families to complete, and a craft to make with boxes (clever).
The catalog also contains "SmileCodes" that can be scanned with the Amazon app to see more gifts. It does not show prices for toys, which allows Amazon to continue to be fluid with online pricing.
Amazon mailed a similar catalog last year, perhaps in a move to capture some of the market abandoned by Toys R Us, which closed all doors in July 2018. I think we can assume Amazon's direct mail effort met with success, since they mailed again in 2019.
I've written about how catalog shoppers spend more per order than point-and-click shoppers and the importance of keeping catalogs as part of your media mix. Amazon's catalog validates that truth, but it also generates questions for this marketer:
Who got the toy catalog? Did Amazon distribute only to its customers? Probably, because that begs the question, do you know anyone who isn't an Amazon customer?
Did Amazon limit the catalog to Prime members?
What R-F-M (Recency, Frequency, Monetary Value) analysis factors did Amazon apply to generate the mailing list? How recently did a household make a purchase to qualify? How often did they shop? How much did they spend and over what time frame?
Did they send catalogs to purchasers and recipient households of previous toy orders? Or only to the recipient households, with a strategy that the receiving address reflects where kids live, and toys were shipped there by grandparents and other long-distance relatives?
Are catalogs customized to reflect what Amazon already knows about its customers through previous purchases? Toys included that reflect specific age ranges or interests (Lego, Star Wars, Pokemon)?
Amazon's catalog move is brilliant—combining its digital power with a paper-and-ink presence in customers' homes. The catalog is nostalgic and encourages family engagement while removing barriers to purchase. Here's to a successful holiday season!
Well played, Amazon, well played.
Bruce Gregoire is founder and CEO of WiseGuys Marketing, in Falls Church, VA. Since 1998, WiseGuys has helped direct marketers target their customers with the right offer at the right time — using R-F-M proprietary algorithms and data-driven CRM software.