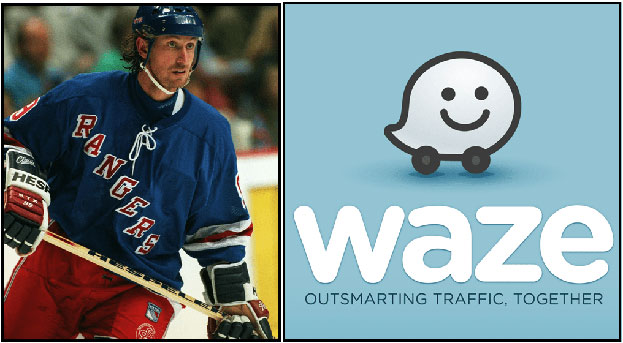 I love Waze! Like many of you, Waze has re-directed me and my vehicle around many traffic jams, which delights me to no end. It gives me the sensation that I am beating the system.
But if you think about it, Waze has nothing on hockey phenom Wayne_Gretzky. Hockey fans, and shrewd business types, will remember Gretzky's mantra for success: "I skate to where the puck is going to be, not to where it has been."
Waze is not as wise. While it amazingly speculates drivers' future arrival times based on regularly occurring traffic patterns — like daily rush hours — Waze only gives specific directions based on real-time conditions. When calculating arrival times or routes, it does not factor in predictable events, like a forecasted thunderstorm or pre-scheduled sports event, which ultimately will delay your arrival.
Similarly, some marketers suffer from this same lack of foresight, specifically from two standpoints:
#1 Self-Limiting Career Options
Obviously, technology will continue to play an increasing role in everyday marketing operations. New job titles, such as "data scientist," are appearing in rapid fashion.
Yet many marketers still rely solely on their creative talent and avoid involvement in data-driven approaches. I regularly advise JHU marketing students to consider a "hybrid" career, much like a business analyst or a power-user. Using this strategy, marketers can know just enough about technology tools, and marketing practice, to translate between both disciplines. Bridging this gap — and there definitely is a gap — can make you a valuable resource.
#2 Business Enterprise Survival
Marketers need a rich imagination to succeed — your employer is not paying the accounting department for their innovative strategies on driving business. So, how is it that so many marketers cannot see — or do not respond to— what is already visible through their proverbial windshields?
Here is a scenario I am sure you have witnessed. Two close friends of mine are book lovers — and usually fans of Barnes & Noble bookstores. On separate occasions, each asked a cashier at the counter for the reduced price shown on the Barnes & Noble website, and both were rejected.
Let's just say if your retail organization is not already seeing, or at least anticipating, Amazon and its impact on how you do business, you may soon feel like the losing end of a collision with wildlife — getting hit when you least expect it. Mayhem! And service industries are not immune either (hello, Yellow Cab).
The corporate landscape is littered with business models that did not evolve. Blockbuster and many others are now road kill. If you are not yet thinking ahead, developing innovative ways to promote and deliver your product or service, be aware that your competition will. The Wayne Gretzkys of the world will beat you to the punch. Even Waze will not help you when that happens.
Bruce Gregoire is founder and CEO of WiseGuys Marketing, in Falls Church, VA. In addition to heading up multiple CRM installations, Bruce teaches CRM in the graduate marketing department of the Carey Business School, Johns Hopkins University.