Back in the old, old days, before chain stores and supermarkets, the corner grocery store offered a simple model for customer relationship management (CRM):
Your grocer had a 360° view of his customers (and their families).
Your grocer put the customer at the center of his operation. He greeted each one and thanked them upon purchase. Think Bedford Falls in "It's a Wonderful Life."
Your grocer knew:
–   Customer demographics – family profile, age, budget
–   Customer buying behavior – to recommend products
–   Customer credit status – to avoid bad debt
–   Product inventory levels – to avoid shortages
Note the complete absence of technology in this picture. Still, the grocer knew most everything about his customers. Even privacy issues were undoubtedly present back in the day of the corner grocer, as they are now.
By the way, an old folk tale about grocery store sales tells the story of young dads buying diapers and beer. When placed together near a checkout counter, the diapers and beer sold better than when placed separately in the store. This product placement demonstrates an early example of what has become known as "Market Basket Analysis."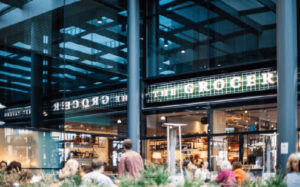 Fast forward to today, and our corner grocery model "does not scale," as technology folks love to say, particularly to the scale of Amazon.
But from those early examples, savvy marketers now understand that CRM is all about a focus on the customer. Here is what CRM is not:
CRM Is Not: Just the domain of technology. Because CRM is both a technology AND a philosophy of how to treat your customers. I know that may come as a huge surprise to your software vendor.
CRM Is Not: "Customer Relationship MARKETING." CRM, by definition "Customer Relationship MANAGEMENT," is an enterprise-wide concept, not just the domain of marketing. Certainly marketing is often the dominant player, but just like life at the corner grocery, all functionalities need to be in play. Without an integrated approach, you won't have a 360° view of your customer.
CRM Is Not: About making life easier for your staff. Truthfully, making life easier for your customer might require extra work for your staff. A good example is the CRM philosophy of allowing customer to return online purchases at local store locations. The result might be messy for you, but it's convenient and a relief for your customer.
Finally, CRM Is Not: For the faint of heart. Historically, the failure rate for implementing CRM applications and programs is close to 50%, though more recent history shows better results. Over time, more and more executives have witnessed enough war stories to know that CRM implementation is not to be taken lightly.
Have more questions about implementing CRM? Contact WiseGuys Marketing staff at (703) 941-8109 — and let us show you how we can simplify the complex.
Bruce Gregoire is founder and CEO of WiseGuys Marketing, in Falls Church, VA. In addition to heading up multiple CRM installations, Bruce teaches CRM in the graduate marketing department of the Carey Business School, Johns Hopkins University.